I was feeling brave one day and decided that I would go and climb Snowdon. I drove up the night before and had fish and chips in Betws-y-Coed (as you do) to help fuel my climb and booked myself into the cheapest hotel I had been able to find.
After a terrible night's sleep, a wake up at about 5.00am and a cooked breakfast (again – important fuelling) I set out on the track to the summit about 8.30am. There were a few spots of rain in the air but at least it wasn't quite as hot as it had been.  I wasn't even sure which way to at first and had to look at the map.  I set off at a steady pace and just kept going. I did the Llanberis track as I thought this had the least risk of falling but it does get quite steep in places. The air cooled as I climbed higher allowing me to keep up the pace I had set from the start.
My heels were beginning to get blisters and I wasn't sure whether to use Compeed blister plasters or Vaseline.  I opted for Vaseline which didn't seem to be working at first but it was fine in the end as coming down hill there wasn't so much pressure on them.  (That's new boots for you).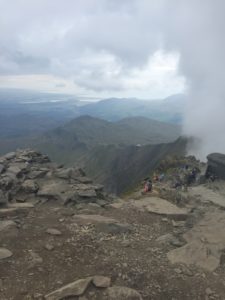 The clouds make for an interesting view at the top (almost looks like the mountain is on fire) and I could even see the sea.  I've climbed Snowdon a few times and it's only the second time that's happened.
I was wondering if I had enough energy reserves for the decent so scoffed down a Snickers (£1.20!!) and headed off again once again.  There is a horrible bit which is really loose gravel and dust but I was impressed with my boots.  They gripped really well.
I did it in what people are telling me is a respectable time. I received a couple of blisters and will be walking like C3PO for the next few days but it was all worth it.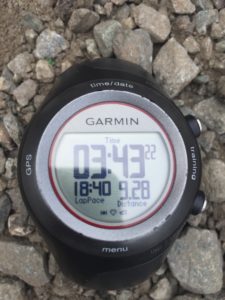 This is all training for the Trekfest I'm doing in September so watch out for my sponsorship link which will be coming your way.